Join The Movement To Cure Kidney Failure.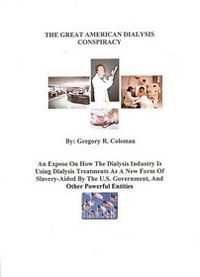 It is time for End Stage Renal Failure Patients in this country and around the world to STOP Suffering In Silence by demanding the release of all currently suppressed, potential cures for Human Trials by those who are willing to take the risks for a chance to be free from the need of painful, lifetime debilitating dialysis treatments, repetitive mutilation access surgeries, excessive pharmaceutical prescriptions and many other devious, cunning and deceitful practices all carried out by the Dialysis Industry for no other purpose than to maximize Corporate Profits to the detriment of millions of human beings who are being sentenced to a lifetime of Medical Slavery For Profit.
If you are suffering from Kidney Failure, come join the movement today.
Our Pain Is Their Pleasure!